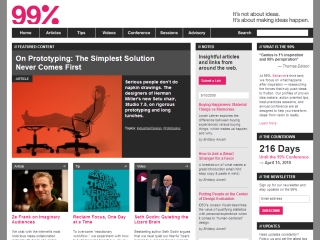 The99Percent – It's Not About Ideas, Its About Making Ideas Happen
http://the99percent.com/
99% is the research arm of Behance, a company dedicated to organizing the creative world to make ideas happen. The creation of 99%, which was launched with their inaugural conference in 2009, sprung from the belief that, as creative professionals, they often focus too much on idea generation and not enough on execution. To get to the crux of the forces behind idea execution, 99% regularly interviews prominent and emerging creative professionals known for their high level of productivity. Based on their interviews, they publish a regular series of articles, tips, and videos on their website, which offers insight into how especially productive teams and people make their ideas happen, time and time again. This has been added to Entrepreneurial Resources Subject Tracer™ Information Blog.