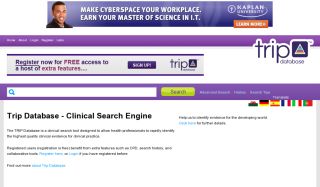 Trip Database – Clinical Search Engine
http://www.tripdatabase.com/
The TRIP Database is a clinical search tool designed to allow health professionals to rapidly identify the highest quality clinical evidence for clinical practice. Registered users (registration is free) benefit from extra features such as CPD, search history, and collaborative tools. This will be added to Healthcare Resources Subject Tracer™ Information Blog. This has been added to eHealthcareBot Healthcare Search Engine.