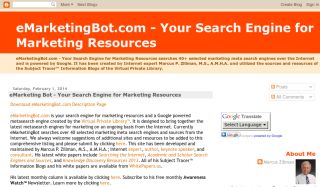 Updated> eMarketing MiniGuide 2017
http://www.eMarketingMiniGuide.com/
This freely available and just released eMarketing MiniGuide 2017 by Marcus P. Zillman, M.S., A.M.H.A. The 17 page (185KB) PDF miniguide updated February 7, 2017 covers the following areas:
B2b Marketing
Book Self-Publishing
Content Marketing
Conversion Rate Optimization
Landing Page Optimization
Lead Generation, Lead Nurturing, Lead Scoring and Lead Management
Lead/Agile Software Development
Marketing Automation
Public Relations/Press Releases
Social Media Marketing
Web Marketing.Internet Marketing
Web User Experience
Miscellaneous
Subject Tracer™ Information Blogs
Visit this freely available eMarket MiniGuide 2017 today and use all these excellent resources. Please spread the word about this MiniGuide to all your friends, associates and social media networks!!