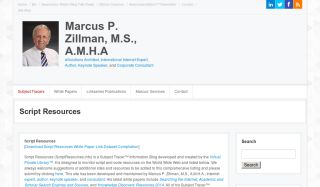 Updated> Script Resources Subject Tracer™ Information Blog White Paper Link Dataset Compilation
http://www.ScriptResources.info/
I have just updated my Subject Tracer™ Information Blog white paper link compilation titled Script Resources which is now a 25 page paper listing selected resources both new and existing that will help anyone who is attempting to find the latest information about scripts and codes that are available over the Internet. It is freely available as a .pdf file (229KB) at the above link from the Virtual Private Library™ and authored by Marcus P. Zillman, M.S., A.M.H.A. It was Updated on January 20, 2014.