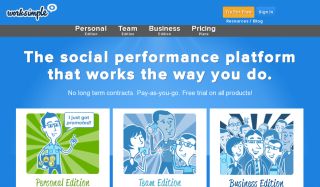 WorkSimple – Social Performance Platform
http://getworksimple.com/
They are the first to design social goals and a Social Performance Platform that works for all employees — individual contributors, management, leadership. Employees love new levels of visibility and performance communication, and leadership loves how they enhance the existing results-based culture. They will continue to create useful software that everyone loves using daily. WorkSimple began with a simple idea – what if there was a way to measure people on actual results and work. And Social Goals was born. They decided to create the industry's first social performance platform based on actual work and social goals that happen throughout the workday. It would be designed for everyone, every employee, it would be easy to use, and would focus on communication, visibility, transparency, with a game changing user experience. They learned along the way that employees love social goals. They knew for the first time what was expected of them and what they could expect from the company. They could see what others are working on, and how their job role and goals impacted the greater objectives of theirs peers, team and company. Managers and employees used their goals as discussion guides on a weekly basis. Problems were getting solved, employee coaching and performance feedback was emerging, performance behaviors were discovered, and engagement was happening. Their vision and platform is on track to fundamentally change the way employees and companies view performance and each other. They help build your performance network in a single day. This has been added to the tools section of Research Resources Subject Tracer™ Information Blog. This will be added to Social Informatics Subject Tracer™.