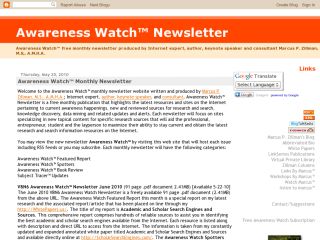 Awareness Watch Newsletter V11N11 November 2013
http://AwarenessWatch.VirtualPrivateLibrary.net/V11N11.pdf
Awareness Watch™ Newsletter Blog and Archives
http://www.AwarenessWatch.com/
The November 2013 V11N11 Awareness Watch Newsletter is a freely available 53 page .pdf document (358KB) from the above URL. This month's featured report covers ShoppingBots and Online Shopping 2014. This 18th Annual Report list shopping resources on the Internet and is a comprehensive listing of ecommerce coupons and shopping resources currently available on the Internet. The below list of sources is taken from my Subject Tracer™ Information Blog titled ShoppingBots and is constantly updated with Subject Tracer™ Information Bots (STIB) at the following URL: http://www.ShoppingBots.info/. These resources and sources will help you to discover the many pathways available to you through the Internet to find the latest shopping deals, resources, sources and sites including valuable coupon sites. In today's New Economy it has become one of the primary resources for discussing methods, reviews and utilization of finding shopping and eCommerce resources that are easily available and accessible to save you money and time in your holiday as well as everyday purchase decisions!! The Awareness Watch Spotters cover many excellent and newly released annotated current awareness research sources and tools as well as the latest identified Internet happenings and resources including a number of neat and must-have tools! The Awareness Watch Article Review covers Making Data – Big Data and Beyond – Special Issue First Monday.