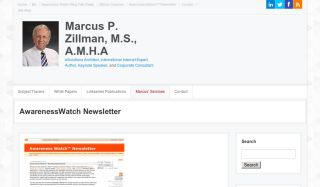 Awareness Watch Newsletter V14N12 December 2016
http://AwarenessWatch.VirtualPrivateLibrary.net/V14N12.pdf
Awareness Watch™ Newsletter Blog and Archives
http://www.AwarenessWatch.com/
The December 2016 V14N12 Awareness Watch Newsletter is a freely available 58 pages .pdf document (411KB) from the above URL. This month's featured report covers ShoppingBots and Online Shopping Resources 2017 is a comprehensive listing of shoppingbot and online shopping/coupon resources and sites on the Internet. This is the 21st annual listing of this directory that has been produced and published by Internet Expert and Guru Marcus P. Zillman, M.S., A.M.H.A. since 1996. The below list of sources is taken from his Subject Tracer™ Information Blog titled ShoppingBots and is constantly updated with Subject Tracer™ bots at the following URL: http://www.ShoppingBots.info/. These resources and sources will help you to discover the many pathways available to you through the Internet to find the latest shoppingbot resources and coupon/deal sites. Shop with your Bot until you Drop!!! The Awareness Watch Spotters cover many excellent and newly released annotated current awareness research sources and tools as well as the latest identified Internet happenings and resources including a number of neat and must-have tools! The Awareness Watch Article Review covers Social Bots Distort the 2016 U.S. Presidential Election Online Discussion by Alessandro Bessi, Emilio Ferrara.