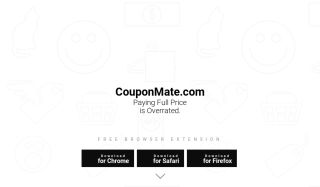 CouponMate Browser Extension
https://www.couponmate.com/
CouponMate is a browser extension / add-on that makes it ridiculously easy to save money and time. CouponMate currently saves you money and time in two ways: 1) automatically find you coupon codes as soon as you begin shopping and also at checkout and 2) Apply those coupons automatically for you while checking out. First, install the CouponMate browser extension. It places a unobtrusive button in your browser bar. Click on it on a supported store and you can see all the available sales and coupon codes. When you are checking out, it will insert a "Find Best Coupon" button in the checkout page. Simply click this button and CouponMate will automatically find and apply coupons for you. This will be added to ShoppingBots and Online Shopping 2015 .