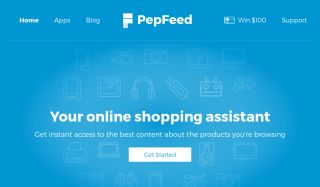 PepFeed – Online Shopping Assistant
http://www.pepfeed.com/
PepFeed helps consumers choose their next gadgets wisely by providing effortless access to relevant shopping information, including price comparisons to find the best deals, expert reviews to know if the product is worth your money, and videos to watch the products in action. They are on a mission to make technology more accessible, not just by making it more affordable, but also by making it easier for everyone to understand its impact on their lives. This will be added to ShoppingBots and Online Shopping 2015.