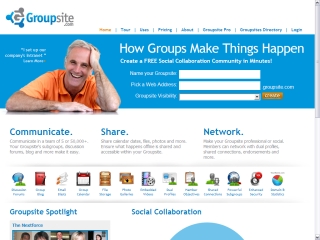 GroupSites – How Groups Make Things Happen
http://www.groupsite.com/
Some call it Web 2.0, others call it the social web. They call it a change. Blogs, social networks, wiki's and other recent innovations have transformed the Web and how many of us use it. While these new innovations are clearly powerful, they don't believe that they've adequately empowered people within groups to come together and collectively make things happen. So they have made it their mission to introduce the Groupsite, a new kind of website. Groupsites embody the Web's evolution into a social/collaborative medium by bringing together the most useful features of traditional websites, discussion forums, listservs, blogs, collaboration software and social networks. With Groupsites, people from a wide range of professional and social groups within companies, communities, non-profits, families and more are now able to instantly and easily communicate, share, network. Best of all, basic Groupsites are free to create and can be setup to be public, completely private and secure, or somewhere in between. This has been added to the tools section of Research Resources Subject Tracer™ Information Blog. This has been added to World Wide Web Reference Subject Tracer™ Information Blog.