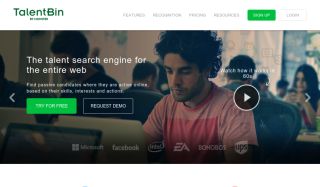 TalentBin – Talent Search Engine for the Entire Web
https://www.talentbin.com/
Find passive candidates where they are active online, based on their skills, interests and actions. Features include: a) Find unfindable passive candidates – Search like a pro (without needing to be one) across the web's largest passive candidate database. We find passive candidates wherever they are; b) Implement amazing candidate outreach – Look like a genius in your outreach with total candidate information, automated templates and cross channel communications; c) Master your talent pipeline – Experience best-in-class tools to manage your candidate pipeline and collaborate with your hiring team. No more dropped balls; and d)Partner with our customer success team – Engage with a dedicated customer success team who will get you up and running immediately, and partner with you to build a higher performing recruiting team. This will be added to Employment Resources Subject Tracer™ .