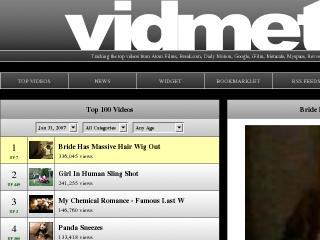 Vidmeter – Tracking the Top Videos from Atom Films, Break.com, Daily Motion, Google, iFilm, Metacafe, Myspace, Revver, vSocial, Yahoo, and YoTube
http://www.vidmeter.com/
Vidmeter gathers data from across the web to provide an accurate representation of the most popular online videos. While it is impossible to tell the exact number of views a given video has received from every website and every download, Vidmeter gathers the reported view count from a large cross-section of web-based video sites, giving a very close indicator to the relative popularity of a video. Vidmeter gathers this data like so: a) First, Vidmeter's software automatically records the numbered of views and comments from the top listed videos on Break.com, Daily Motion, Google, iFilm, Metacafe, Myspace, Revver, vSocial, Yahoo, and Youtube once per hour; b) Second, Vidmeter editors "merge" similar videos on multiple websites. This allows Vidmeter to count the views of a video on all websites as a single video, giving a more accurate ranking of a video's popularity and not just a URL's popularity; c) Third, Vidmeter automatically ranks videos for the day by counting the difference between that day's view total and the previous day's view total. The most viewed videos are the most popular and ranked highest. For videos that are new (that do not have a previously recorded view count), the first view count is listed under "before" as we cannot necessarily tell on which day those views occurred. On some days videos will show a negative comment number, this is because some networks allow users to delete comments and thus lower the total comment count; and d) Fourth, the latest view and comment counts are set as the "all time" counts for the videos and they are ranked accordingly. Vidmeter's resulting list of video provides a great tool for industry watchers to track trends in online videos, for marketers to see what's hot, for makers and advertisers to track their video's popularity, and for eager video watchers to get their fill of the most poplar entertainment online. This has been added to the tools section of Research Resources Subject Tracer™ Information Blog.